Counselor Update Events – Fall 2023
Dallas, TX
September 26 | 11 a.m.-1 p.m. CDT
Southlake, TX
September 27 | 11 a.m.-1 p.m. CDT
Houston, TX
September 28 | 11 a.m.-1 p.m. CDT
Oak Brook, IL
October 3 | 11 a.m.-1 p.m. CDT
Schaumburg, IL
October 4 | 11 a.m.-1 p.m. CDT
Naperville, IL
October 5| 11 a.m.-1 p.m. CDT
Lincolnshire, IL
October 6 | 11 a.m.-1 p.m. CDT
Columbia, MO
October 12 | 10 a.m.-4 p.m. CDT
Denver, CO
October 12 | 11 a.m.-1 p.m. MDT
Edwardsville, IL
October 17 | 11 a.m.-1 p.m. CDT
Tampa, FL
October 23 | 11 a.m.-1 p.m. EDT
Orlando, FL
October 24 | 11 a.m.-1 p.m. EDT
Pembroke Pines, FL
October 25 | 11 a.m.-1 p.m. EDT
Omaha, NE
November 8 | 11 a.m.-1 p.m. CST
Columbia, MO
November 9 | 10 a.m.-4 p.m. CST
Costa Mesa, CA
December 5 | 11 a.m.-1 p.m. PST
Woodland Hills, CA
December 6 | 11 a.m.-1 p.m. PST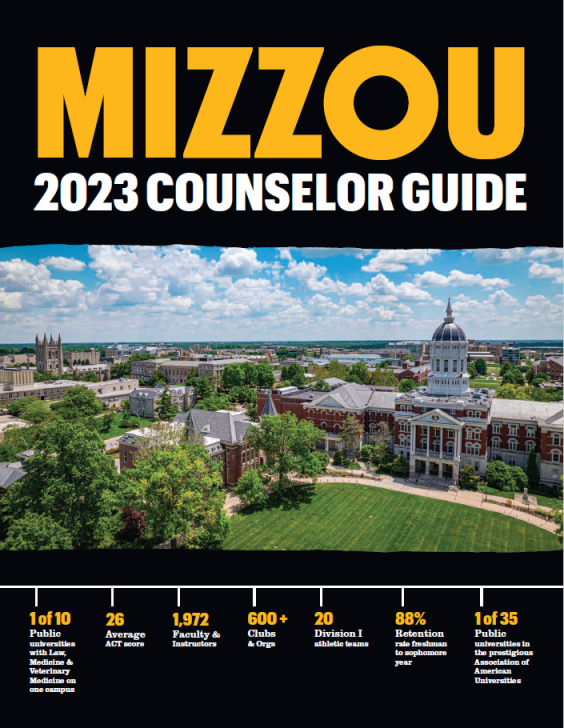 Get Mizzou's 2023 High School Counselor Guide
Mizzou Information in Slate.org
To access where your students are in the enrollment process, be a part of Slate.org. It's a free service allowing you to track your students' application status, view checklist items, upload materials, schedule events and more. Mizzou and more than 800 other schools use Slate to provide student data in one place.
Please use Slate.org or your preferred electronic transcript vendor to send official transcripts. If mailing official transcripts, please mail them to the Office of Admissions, 230 Jesse Hall, Columbia, MO 65211. Please do not staple or paperclip transcripts that contain multiple pages.
If you have students on the free or reduced lunch program, Slate.org allows you to upload a fee waiver form. The form can also be emailed to askmizzou@missouri.edu.
Other Information
Our school codes for the ACT, SAT and FAFSA are:
ACT: 2382
SAT: 6875
FAFSA: 002516
Courses, Credits and Transfers
If you have students who took AP, IB or CLEP exams, visit our college credits page to see what scores are necessary for their credits to transfer to Mizzou.
If you have students taking dual-credit courses, check out our transfer credit equivalencies site for course equivalency details for schools in Missouri and select out-of-state institutions.
Our majors site allows students to explore the 300+ degree options that Mizzou has to offer.